Designing your dream kitchen means choosing everything you want, with all the fixtures you want. Choosing the perfect kitchen mixer should be no exception. After all, a gorgeous tap adds the finishing touch to the heart of your home. By looking great, and by making life in your kitchen so much simpler.
As the hardest working tap in your home, a kitchen mixer must be chosen for its perfect blend of style and function. Mixer taps are the standard in most kitchens these days. Having just one tap that provides both hot and cold water out of a single spout, mixers make it far easier to precisely control the temperature of your water.
Different types of kitchen mixers
Whichever style of kitchen mixer you pick, it's important to think about the handles. A one-handled mixer is easier to adjust, while a two-handled mixer usually offers more design options.
Let's have a closer look at the different types:
Single lever mixer taps
Single lever kitchen taps make it possible to regulate the motion, direction and temperature of your water with just one hand. As the name suggests, these taps are characterized by a single handle that lifts up and down to control the flow of water, and twists side to side to adjust the heat.
Practical and stylish, the single-lever kitchen mixer comes in a wide range of designs and finishes, with the most popular finish being chrome. Our Thames collection has two single lever mixer taps, with or without an additional spray set.
Monobloc taps

Monoblocs require only one hole in
the basin or worktop, making these taps the minimalist choice. They feature a single spout, served by one or two connecting handles. We have them in multiple designs – from the traditional and timeless to the more modern and extravagant, so you can create a look that reflects the style of your kitchen perfectly.
Bibcock
A funny-sounding name for an extraordinary mixer with a curved nozzle. Bibcocks are suitable for inside and outside use and can be found in most houses. Our personal favourite is this bibcock tap with upstand cold.
Wall-mounted kitchen mixer
Looking for a creative solution to a standard basin or deck-mounted mixer? Why not consider this 3-hole wall-mounted kitchen mixer? This type is an excellent idea if you have very little worktop space. As a plus, it makes your basin look less cluttered.
Bridge mixer taps 
Two-tap hole kitchen mixers come in a variety of different styles. With an elegant spout that sits in the middle, bridge mixer have separate hot and cold handles giving you maximum control over both water flow and heat.
If you're into French kitchen design, you will absolutely adore this stunning bridge mixer with a French spout. Prefer a more striking mixer? Have a look at this robust silhouette from our Discovery collection.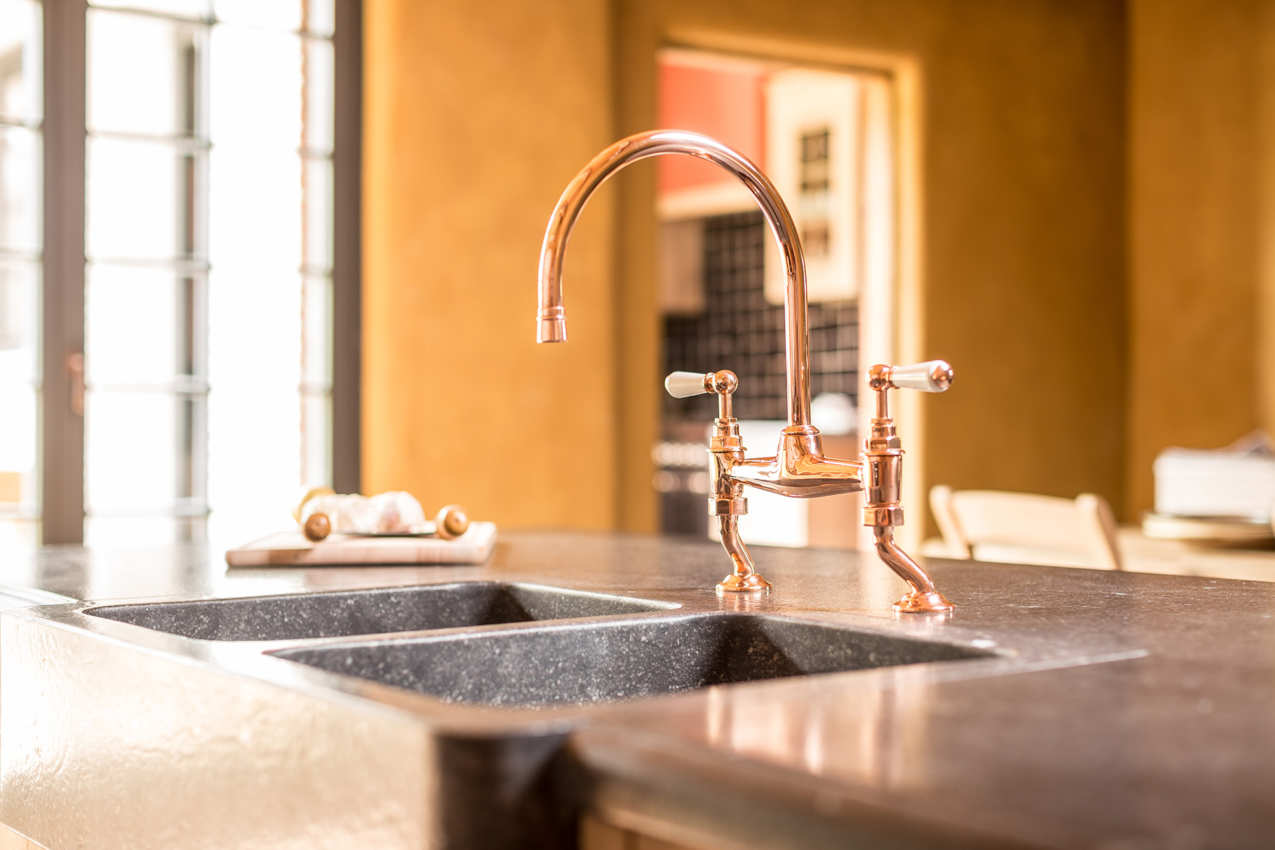 The optional sprayset
A sprayset is an incredibly practical accessory to have in your kitchen. The handy sprayhead can be used for almost any cleaning job – from rinsing fruits and vegetables to washing your big sink and doing the dishes.
All mixers from our assortment are available with an additional sprayset.
What finish do I prefer?
Just as a mixer is a design element, so is its finish. We offer a diverse selection of finishes to compliment any contemporary or traditional kitchen. But how do you choose the right finish? To pick the right colour for your kitchen, consider the following tips:
Aside from the shape of the mixer, look at the shape of the basin, the edge of the counter, the decor of your kitchen and the lighting fixture. Then ask yourself, "Will the mixer's finish complement the entire space?";
Mixing is in: apply a vintage finish to a modern mixer, rather than trying to match everything;
Neutrals like chrome and nickel look good on anything;
Do you desire something that's a little chicer than chrome? Opt for a nickel, brushed nickel, brass or gold finish.
Chosen carefully, a kitchen mixer will offer you years of beauty and function.
Kenny&Mason wants to inspire you with traditional and modern kitchen and bathroom ideas to help you create a lush space. Tell us about your project.