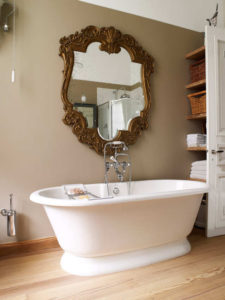 Whether you are remodelling a bathroom or building a new suite, there is no better way to finish off your project than with a handcrafted bathtub. But how do you choose a tub big enough to soak in? Options abound when searching for the best material for your tub, so you might feel a bit overwhelmed in the selection process. You need to deliberate such factors as quality, appearance and durability before making your final choice.
A cast iron bathtub is one of the most popular items for home renovators and architects — and for good reason. We compiled some information about the characteristics of this material to assist you with your decision.
Built to last a lifetime
Tubs fashioned in cast iron rose to popularity in the early 19th century. Construction of these unique bathtubs remains similar to that of the past. Our skilled craftsmen pour liquid iron into a classic sand mould and coat it with a generous layer of titanium reinforced enamel (= porcelain). Every piece is designed to cater to all your needs of luxury bathing.
If you want to class up your suite with an everlasting centrepiece, consider a cast iron bathtub:
Cast iron is by far the most durable material on the market. The thick enamel finish is resistant to most chemicals, chipping, denting and scratching;
Cast iron bathtubs are immensely strong. Choosing one will last you for many years to come;
Because a cast iron tub is deep and thick, it has the ability to retain heat which will keep your bathwater warm for a longer time;
Freestanding cast iron bathtubs have a refined look that is often associated with old manor houses.
The number of styles and features available has enormously increased in recent years. Cast iron tubs can be either built against a wall or come as traditional freestanding models with claw feet, much like The Devon. Do you prefer a matching pedestal rather than feet? The Emperor and The Duchess give your bathroom that regal upgrade it deserves. All of our models can be customized to fit your dream bathroom.

Taking care of your cast iron bathtub
This material requires little maintenance. Once you have installed your favourite model, all you need is a soft cloth and gentle cleaner to keep your bathtub looking fresh. You can use almost every chemical without risk of stripping the enamel. Spend less time cleaning, and more time relaxing.
Want to create that classic look without compromising on all the comforts a 21st century bath has to offer? Discover our range of classic composite baths.
Kenny&Mason wants to inspire you with traditional and modern bathroom ideas to help you create a lush bathroom space. Tell us about your project.